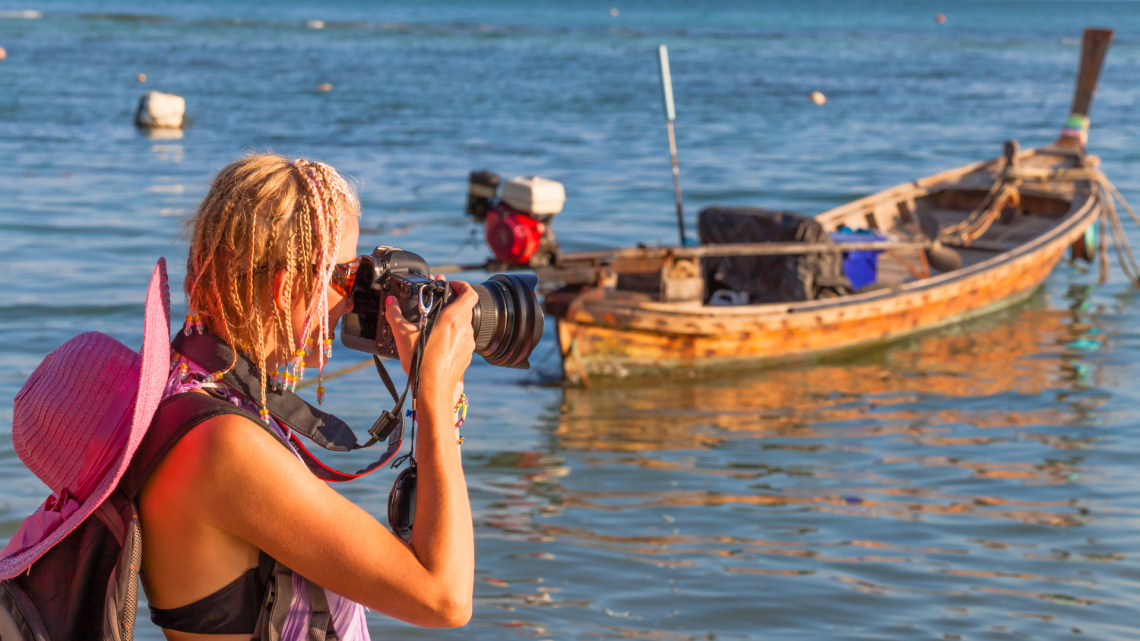 Awesome Instagram Travel Photographers You Need to Follow
There's no denying the joys of travel, but unless you're an avid Instagrammer, you might not realize how beautiful the world is. Whether it's capturing a cityscape at sunset, a snowy peak at dawn, or an exotic beach during a storm, travel photography can move you to another place and time, making you feel as though you're in that place yourself.
With the rise of social media, came Instagram. The rise of Instagram also came with the hike of Instagram Travel Photography. These creatives capture beautiful landscapes, unique cities, and moments around the globe, giving followers a look into places they otherwise (and may never) have been able to experience. If you're interested in traveling to any of these places yourself, Instagram is the perfect resource.
Here Are the Awesome Instagram Travel Photographers You Need to Follow:
Melissa Hie (@girleatworld)
Melissa Hie (@girleatworld) takes some incredible pictures from all around the world. An amateur photographer, she travels the world in search of the best food, people, and culture to capture in photographs. She found success with her popular travel blog, GirlEatWorld, but she soon realized she could make money through her photos. Her Instagram fans loved her work and eventually started working with companies on sponsored trips. Her family was her gracious, supportive, and constant traveling companion—an excellent combination for a budding photographer.
Jack Harding (@jackharding)
Follow Jack Harding, a travel photographer from Australia, as he documents his travels and shares the stories behind them. You might recognize some of his posts—he has published in National Geographic, TIME, the New York Times, and Paris Match.
Lucy Rose Laucht (@lucylaucht)
Lucy Rose Laucht is a professional photographer, blogger, and travel writer who captures beauty every day. Born in Australia, Lucy now calls England her home, but she's still the happiest when traveling. Her Instagram feed is bursting with gorgeous photos from places all over the world that she's visited—and she has tips on the best local spots to check out.
Quin Schrock (@everchanginghorizon)
Travel photography is about capturing the perfect moment, and Quin Schrock has perfected the art of capturing the perfect moment. Quin's images have a dreamy quality, from her distinctive color pallet to her crystal-clear edits.
Chris Burkard (@chrisburkard)
Chris Burkard is a photographer, entrepreneur, and all-around creative. He captures photographs from around the world, with stops in places like, but not limited to Tokyo, Morocco, India, and the American Southwest.
Samuel Taipale (@eljackson)
When it comes to travel photography on Instagram, Samuel Taipale (@eljackson) is the go-to guy. The Norwegian photographer has an eye for beautiful shots and a knack for capturing the perfect moments. His work has appeared in major publications, including National Geographic Traveler and Condé Nast Traveler.
Loki the Wolfdog (@loki)
Loki the Wolfdog has traveled to over 120 countries around the world. This travel photographer's Instagram feed is full of stunning photos from around the world, from Iceland to Italy and everywhere in between. Loki's photos also feature his Mini Dachshund, Fonzie.
Agata Wagemaker (@windmilldreams)  
Agata's breathtaking photos from her around-the-world journey are guaranteed to inspire you to travel more yourself.
Johan Lolos (@lebackpacker)  
You can follow the travel Instagram accounts of some of the most talented photographers in the world, like Johan Lolos(@lebackpacker), to get ideas for your next trip.
Loic Lagarde (@loic.lagarde)
Instagram is a fun and expressive platform, but some users (especially photographers) can get a little carried away. A prime example is @loic.lagarde, who posts some of the most beautiful travel photos on Instagram. Lagarde's work is full of color, mystery, and movement, so it's no surprise that his work often takes top honors at international photography contests.
Emily Schuman (@emilyintheknow)
Emily's travel photos are beautifully curated, as she only features each destination's highlights.
Tom Budden (@tombudden)
Tom's travel photos are filled with adventure and action, and his captions often convey a humorous take on his travels.
Matt Carter (@mattcarterphoto)
Matt's travel photos capture the joy of wanderlust, and wanderlust inspires him to be a better traveler.
Traveling the world sounds like fun, but it can get expensive. That's why Instagram travel photographers are so important. They've been capturing beautiful moments and places around the world for years, and they've seen it all. Have you ever caught yourself scrolling through your Instagram story before landing at the airport and wondered which travel photographers to follow? Maybe you were inspired to visit a new place after seeing their photos. Or maybe you've just been meaning to incorporate more travel into your social media. These photographers share their travels from a unique perspective, but each shares their passion for growing their following and documenting their travels.